Church Desktop Publishing Templates, Illustrated Caps, Clip Art and Photos on CD $39
The best collection of desktop publishing tools for churches! Includes a collection of 70 professionally designed bulletins, newsletters, letterhead, tape and video labels, and more give your church or ministry quick and effective publications. Includes FREE Faith Ornaments font! Available for Windows for Wordperfect, Microsoft Word, Adobe Pagemaker, and Quark Xpress formats. Available for Mac in Microsoft Word, Adobe Pagemaker, and Quark Xpress formats.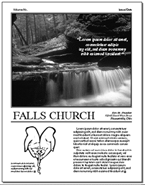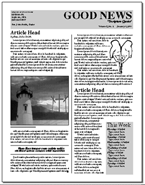 Also includes a collection of 3 illuminated cap alphabets: the "Angels" collection shows a variety of angel figures intertwined with cap letters and comes in black and white and color versions, the "Water" collection features a stylized water flow integrated with the characters and also comes in black and white and color versions, and the "wheat and grapes" collection which is available only in a black and white version. Also included for all of these are border elements to match and a bonus pencil stroke informal style border.
Comes with a collection of vectorized illustrations plus a small collection of pencil style illustrations to coordinate with the pencil style border elements.
Also includes five high-resolution sample photos from the Inspirational Images Photo Collection and five unique digitally created images.
Faith Ornaments Font (included in the Church Desktop Publishing Templates CD above)
Over 70 symbols are included on the templates CD in a font for bulletins, callouts or borders. Truetype and Postscript versions on the same disk. Available for Windows or Mac.
Extra Value Pack (Includes Template CD and 300 photos) normally $60
For only$21 more than the price of the template CD, you can purchase a bundle that includes both the Template CD described above and the package of 300 Inspiration Photos (a $50 value). For more information about our hundreds of photos that are royalty free see our 300 Inspiration Photo collection.
Copyright 2006 by Diakonia. All Rights Reserved.